Eco Weddings: Environmentally Friendly Ideas
Posted 14th August 2019
You obviously want your wedding to have a huge impression on your guests, but there's one thing you don't want it to have a huge impression on: the environment. Here is how to ensure people know about it, but the planet doesn't.
Stationery – Invitations, Place Cards, Envelopes, etc: 
You can get some really nice stationery made from recycled paper, and how about using eco-friendly inks based on vegetables or soy?
Alternatively, you can use a renewable material like hemp.
How about using home-made biscuits as place-cards with names on, doubling up as a favour?
Favours
Apart from the one mentioned above, you could perhaps give small recycled jars with jams or a warming hot chocolate mix for the winter months.
Alternatively, you could make a small donation to a charity of your choice in the name of each guest.
Flowers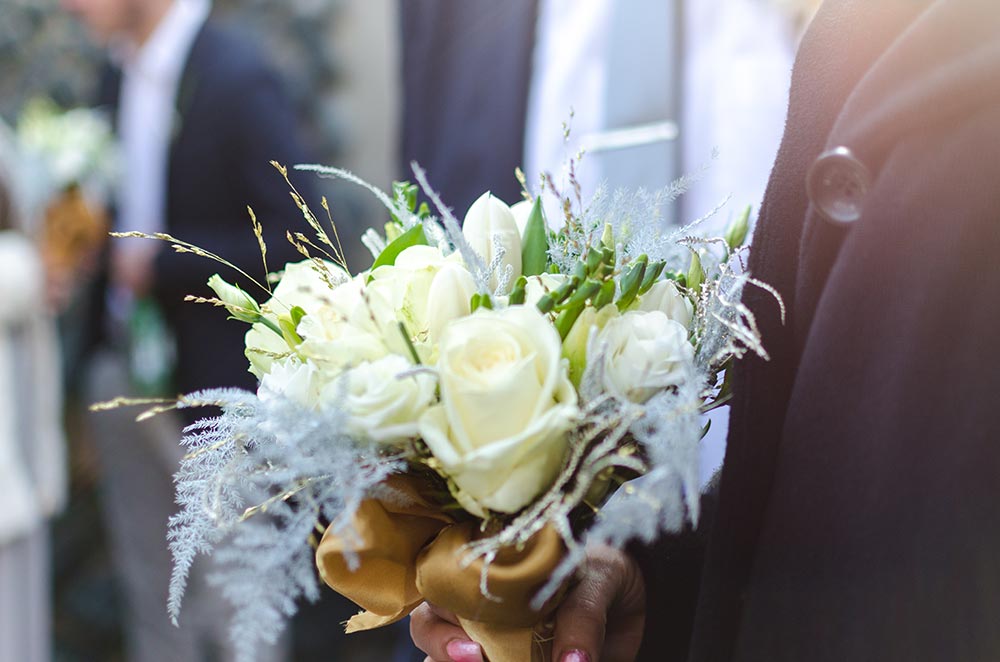 If you buy flowers that are out of season, they are often grown with the aid of chemicals and fertilisers. To cut down on shipping, try and order from a local supplier and buy in-season if possible – but if you want a particular flower that isn't in season, try and insist they go through a Fair Trade supplier.
Transport
Instead of the thirsty limousines, think of something with a little less CO2 – like a horse and carriage. As well as being eco-friendly, they also make quite a statement upon arrival – but take care as you get in and out, as they do sway a bit!
Alternatively, if you particularly want a luxury car, how about a top-end electric or hybrid car, like a Tesla, Jaguar iPace or Lexus?
If your Reception is a riverside venue, you could, perhaps, arrive by boat.
If you ask your guests to park at the Reception venue, they could be ferried to and from the church by, perhaps, a vintage bus or coach – they may not be eco-friendly themselves, but compare one or two bus journeys with 50 short car journeys and you will see it will be a marked improvement.
Reception Venue
When you choose a venue, explain to them you're trying to make your wedding as eco-friendly as possible, and give them the opportunity of telling you their green credentials – see what their recycling policy is, whether or not they compost their food waste (or whether it is collected by a neighbouring farmer as animal feed), if they use paper straws, bamboo or compostable plates and cups instead of plastic. They may have even swapped their fossil fuel heating system for an air source heat pump or some sort of wood or pellet boiler that is CO2 neutral, but don't strike them off the list if they haven't, as it's often a huge up-front expense.
See if they can also supply you with an organic menu, using local suppliers – this doesn't have to be vegetarian or vegan as the number of organic butchers is increasing.
Fashion
Unfortunately, the fashion industry is rife with waste, chemicals and abusive conditions – not just humans in sweatshops, but also for flora and fauna. Luckily there are a few ways of negotiating this minefield:
Wedding Dress
If buying, look for designers who use Fair Trade materials such as hemp or cotton; or
Buy a dress you think you'll be able to wear again; or
Wear a vintage wedding dress that one of your family wore before you.
Alternatively, you could simply hire the wedding dress.
Bridesmaids' Dresses
Look around for people who are selling their own bridesmaids' dresses, or trawl charity shops or car boot sales. A popular trend nowadays is to use the same colour and material, but to have different styles of dresses depending on how comfortable each bridesmaid is in each style. Or have the same dress, but in different pastel shades.
Jewellery
The same rules here apply to the above – jewellery doesn't have to be new. Recycled and vintage jewellery still looks good. But if you're buying new, make sure the gems are Fair Trade.
Suits
Suits for the male members of the wedding party are rarely bought and are more often than not hired – this ensures continuity.
Hair & Beauty
Like fashion, there can be a lot of harmful chemicals in cosmetics. Look at the ingredients to make sure an item doesn't include anything harmful, and also check to ensure it hasn't been tested on animals. Creams and perfumes should contain natural ingredients, which is not only good for you, but good for the environment too.